Ronald John McDill, 1939 - 2013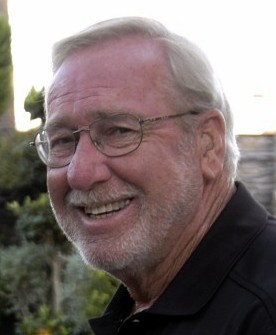 Ron McDill, 2007
From Susan:
Ron was born on September 23, 1939, in Hermosa
Beach, California, and passed away at home in
Orange, California on January 11, 2013.
He was raised and lived in Manhattan Beach, and one day he met Susan in the first grade at Grand View School.
She didn't become the love of his life until high school, however, when their paths crossed again on Senior Ditch Day.
"All good things happened after that," Susan recalls.

Ron began working as a mail boy for the Santa Fe Railway after the place where he worked in Hermosa Beach burned down. He started his new job just two days before their wedding ... a wedding that grew into a loving marriage of 54 years.

Susan says, "We weren't just joined at the hip, we were joined at the heart."
Below are some of the memories from his Mira Costa classmates and friends:
From BJ Grantham, January 13:
I saw this sad news on her Face Book last evening. I remember the day I realized they were in love. It was the Sr. Class Ditch Day in Catalina. They went out in one of those little row boats.

Then I never saw them apart again.

A love story probably similar to you and Cecelia.
From Michael Ormsby, January 13:
I wish to list the youth from my neighborhood who gathered behind my home at 216 Highland to play basketball on a more or less regular basis over years in the 1950s. The backboard was nailed to our wood shingle garage backed up to Crest Drive, but a 5 foot high cement foundation wall allowed one to take a vertical step and get high enough to dunk.

Ron McDill, MCHS
Alvin T. Smith, MCHS
Bruce H. Cowan, MCHS
Robert H. Winters, Serra HS
Tim Kelly, MCHS

My best wishes to Susan. Ron's personality cannot be forgotten.
From Marcia Shatan, January 14:
I am deeply sad that Ron has passed away. We grew up together in Manhattan Beach. He lived down the street from me or on the next block.

He and his wife Susan gave me a ride home from a mini reunion from the Mermaid, I think in 2007.

My Prayers go to you dear Susan.

Love, Marcia Schatan
On January 18, she added:
Dear Susan,

My thoughts and Prayers are for you.

Love, Marcia Schatan
On January 20, she added:
I remember Ron as a Child of 6 years old; he lived on 4th Street or the next street over, in Manhattan Beach. He was a real nice guy as I remember him. We always got along.

I went to school with him from Grandview to Mira Costa.

God Bless You Ron.

It was so many years ago .... I have Good feelings and Memories about Ron.

Marcia Schatan